Pamela Fryman
Season(s)
S1
 
Date of Birth
August 19, 1959 [Aged 54]
 
Origin
USA
 
IMDb profile
Pamela Fryman is an American sitcom director and producer. She served as a director for How I Met Your Mother and was due to return as Director for How I Met Your Dad. However, she was later replaced as director by Rob Greenberg, who also served as a director on How I Met Your Mother.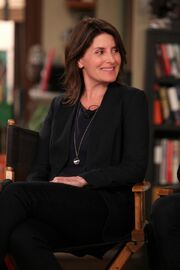 External links
Edit
Ad blocker interference detected!
Wikia is a free-to-use site that makes money from advertising. We have a modified experience for viewers using ad blockers

Wikia is not accessible if you've made further modifications. Remove the custom ad blocker rule(s) and the page will load as expected.