Krysta Rodriguez
Character
Juliet (exited role)
 
Date of Birth
July 23, 1984
 
Origin
USA
 
IMDb profile
Krysta Anne Rodriguez (born July 23, 1984) is an American actress and singer. She originated the role of Wednesday Addams in the 2009 Broadway musical The Addams Family. She was a regular on the second (and final) season of the NBC series Smash in 2013. She as originally cast as Juliet on How I Met Your Dad, but exited the role after changes were made to the script in March 2014.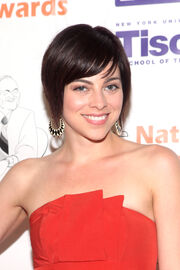 Ad blocker interference detected!
Wikia is a free-to-use site that makes money from advertising. We have a modified experience for viewers using ad blockers

Wikia is not accessible if you've made further modifications. Remove the custom ad blocker rule(s) and the page will load as expected.