Andra Petru is an episodic actor on How I Met Your Dad, portraying the role of a Bar Patron in Pilot.
Biography
Edit
Andra Petru is an actress, known for Junk (2012), The Whole Truth (2009) and The Pro (2014). It was announced in 2014 that she would appear in the series premiere of How I Met Your Dad.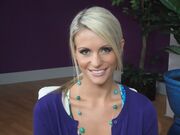 Petru was born and raised in Bucharest, Romania. She is a vegetarian, has competed in the Miss USA pageant system, is a marathon runner, and is a professionally trained tap dancer.
Ad blocker interference detected!
Wikia is a free-to-use site that makes money from advertising. We have a modified experience for viewers using ad blockers

Wikia is not accessible if you've made further modifications. Remove the custom ad blocker rule(s) and the page will load as expected.